A tough and beautiful live performance of William Tyler's Country Of Illusion from 2013, at the Trumpet Blossom Cafe in Iowa City, Iowa. Many of Tyler's pieces seem as much a meditation on the dissipation of the american mythos as a celebration of it. Bright, open american vistas replace each other on the horizon line, leaving room for the periodic emergence of a restrained raga/drone. In this performance, Tyler culminates his piece into a wall of reverberant rumblings and shimmering layers.  The myth folds back in on itself and quakes in it's own reflection.  A wonderful, powerful ending.
Check out Tyler's new album, Modern Country, released in June 2016.  A very favorable review from the Guardian is republished below:
William Tyler: Modern Country review – Americana too sublime for words
5/5stars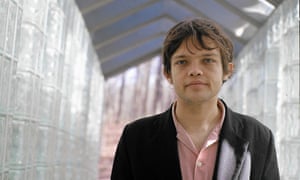 But, as Tyler tells it, the album came about when this former member of Lambchop and Silver Jews – latterly celebrated for his lyrical acoustic fingerpicking –had a panic attack on an interstate. Touring musicians can't afford such phobias; Tyler turned disaster into opportunity, taking the roads less travelled. It was an enforced slowdown soundtracked by country music and the German motorik of the 70s, the sine qua non of driving music. Both traditions, alongside folk-rock and Knopfler, find their way onto this lush study of Americana that thrums with a love of the South, a place not synonymous, Tyler argues, with the worst of its past. Kingdom of Jones, a roiling, bright fingerpicked raga, bears witness to Jones County, Mississippi, a historically anti-Confederate enclave.
The vanishing America of truck stops and one-horse towns is a cliche now, its bleakness long riffed on in films, photography and song. But Tyler's parents come from small Southern places, and he returned to a cabin in their university town to write this set of spacious songs, where tradition and transcendence mix. Albion Moonlight reverberates with twang, but behind the guitars, it sounds like someone is working sheet metal next door. The Great Unwind – the album's heroic closer – takes its name from New Yorker writer George Packer's celebrated 2013 account of American inequality. You want to punch the air at the unexpected electric guitar solo. Midway through, there are roughly 30 seconds of undiluted birdsong.
Highway Anxiety, meanwhile, betrays no fear, as though Tyler wrote it to soothe himself. The bittersweet melody, the gem-like chord progressions, the sense of acceptance – it's all succour, designed to make your blood pressure drop. Just shy of three minutes in, Wilco drummer Glenn Kotche's kit rattles into life and Tyler's awesome band (completed by bassist Darin Gray (Jim O'Rourke, Tweedy), and Justin Vernon associate Phil Cook on keyboards) slip into gear, the austere acoustic framework of Tyler's previous album, 2013's also excellent Impossible Truth, receding into the rear-view mirror.